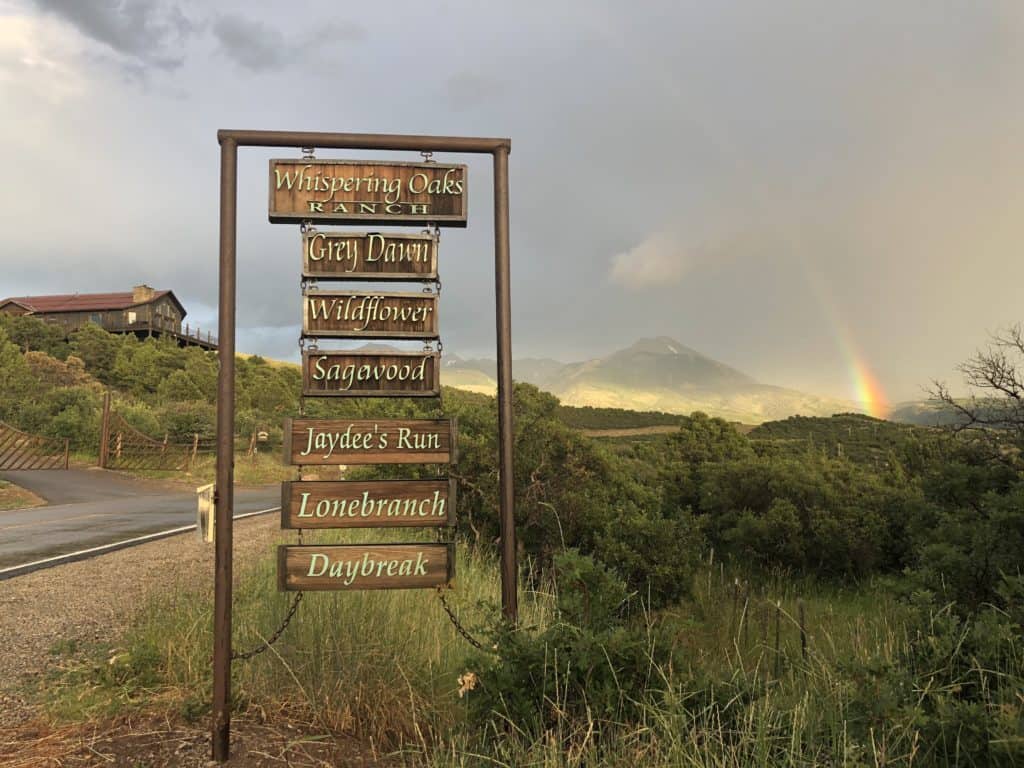 The private, nightly cabin rentals at Whispering Oaks Ranch provide a one-of-a-kind lodging experience in the Moab area. Enjoy panoramic views of the red-rock landscape as you drive the iconic La Sal Mountain Loop Road to nearly 8,000 ft in elevation.
In addition to all of the amenities of our private property and cabins, you have convenient access to a number of Moab-area sights and activities…places both on and off the beaten path. Our cabins Welcome Books have information about the nearby peaks, hiking trails, and outfitters. If you like to plan ahead, we are happy to answer any questions you may have about the La Sal Mountains and Moab area.
Viewpoints
Second in line to the view from our Cedar Bend deck is catching a sunset at the Castle Valley Overlook, less than 9 miles from the cabins. There are two places you can get a glimpse of this extraordinary view.
First, is from the La Sal Mountain Loop Road. Drive just 4 miles North from the cabins, and there will be a pullout on the left. This may be accessed year-round.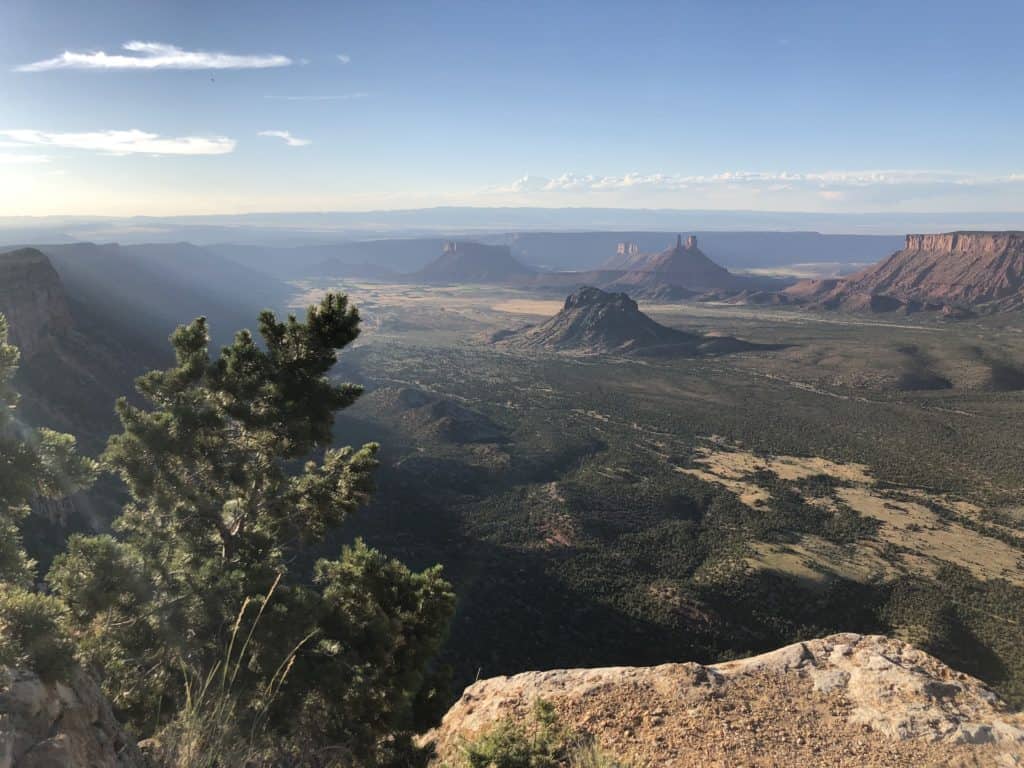 The second, and most incredible overlook, is via the Sand Flats Road, and is less than 9 miles from Whispering Oaks. The road is unpaved (FR 4632). If you enjoy viewpoints, this one will take your breath away!
Looking to hike your way to an incredible panoramic view in the summer season? Check out the trails at Oowah Lake or Geyser Pass area just a few miles south of Whispering Oaks Ranch. There are a number of trails in these area that will take you to 11,000 ft and higher. Geyser Pass is also a great spot for snowshoeing and cross-country skiing in the winter.
Nearby Lakes & Hiking
Warner and Oowah Lakes are within 6 miles of Whispering Oaks Ranch and offer beautiful mountain scenery, hiking trails, and fishing. From Oowah lake you may hike up to Boren Mesa for an awesome view of the mountains and canyonlands. Clarks Lake may also be accessed from this trail head. The lake roads usually open around Memorial Day weekend each year. Before this time, we recommend parking at the gate, and hiking the road to Warner Lake.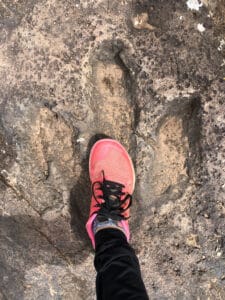 Early summer is an awesome time to drive to Warner Lake as the views are beautiful, the wildflowers are in bloom, and you're almost sure to see deer and lots of birds….keep that camera handy! From this lake area, the trailhead for Gold Knob is accessible. This is one of our favorite hikes in the La Sal Mountains!
Another off-the-beaten path site that we love is the dinosaur tracks at Bull Canyon Overlook. These are just a 30- minute scenic drive from Whispering Oaks Ranch along the La Sal Mountain Loop Road.
Arches & Canyonlands National Parks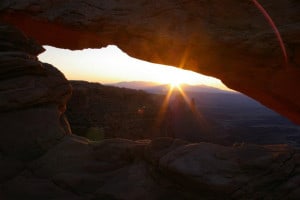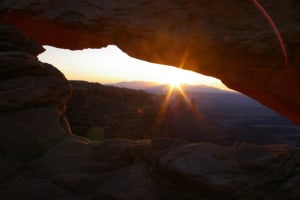 Arches & Canyonlands National Parks may be accessed in less than 1 hour from Whispering Oaks Ranch. These parks are what attract so many visitors to the Moab area every year. Many of our guests feel that the beautiful drives from the parks to our cabins are well-worth the extra minutes in the car….and the panoramic views!
Some of our favorite hikes outside of the National Parks are Corona Arch, Fisher Towers, and Morning Glory Bridge (Grandstaff Canyon).
Biking
Whether you are on a road bike or mountain bike, the La Sal mountains are a great basecamp for your Moab biking adventures!
The La Sal Mountain Loop Road is one of the more popular road bike rides near Moab. This iconic loop is roughly 62 miles and can be ridden in either direction. When coming from south Moab, Whispering Oaks Ranch is located about 20 miles along the loop, and at nearly 8,000 ft elevation (one of the highest points along the road). For more information about road biking in the Moab area, click here.
There are a number of advanced mountain biking trails that begin right in our backyard including the famous, Whole Enchilada. This series of trails weaves through our elevation about 4 miles north of the property. Parking at the Castle Valley overlook on the La Sal Mountain Loop Road is near the Kokopelli trail and Porcupine single track.
If it's too early in the season for higher elevation trails, take the Sand Flats Road (intersection just 1.6 miles north of Whispering Oaks) to lower elevation trails.
Horseback Riding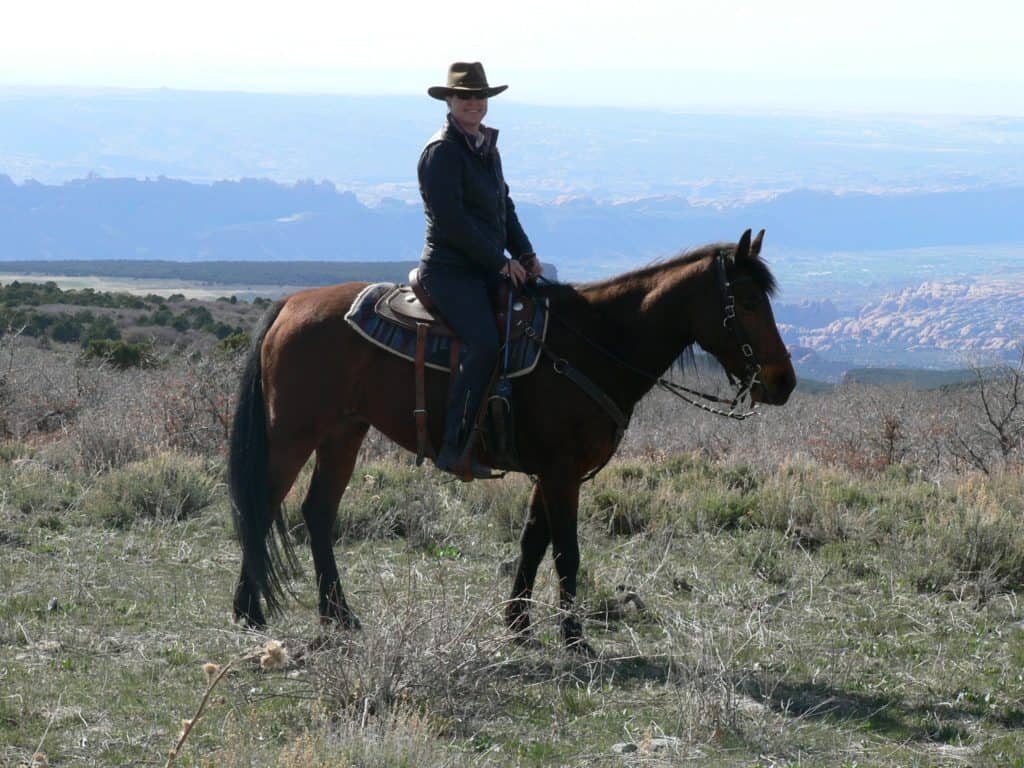 Kevin & Melissa are neighbors to Whispering Oaks Ranch and offer horseback riding trips from their property. Find more information at their website: www.rocknridge.com