Event Lodging
Whispering Oaks Ranch is a perfect spot for a Moab destination wedding. Please note that we are a privately owned property, which provides lodging and venue space. Our private cabins offer comfortable and inspiring accommodations for 12-65 guests.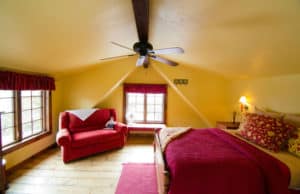 For weddings of greater than 35 guests, the entire property must be reserved for a two-night minimum stay (three nights on a holiday weekend.) Please see our individual cabins for current pricing or contact us for a quote. Discounts may be offered for extended stays and mid-week reservations.
Please contact us to discuss additional pricing for pavilion use and for any questions or requests you may have in planning your wedding event.
Wedding & Event Reservation Policies
We require a $1,500 deposit, which is non-refundable. The deposit is applied to the reservation balance.
The wedding couple is responsible for all payments.
A security deposit will be authorized to the credit card on file 1-2 days prior to arrival. The amount is determined by cabin, and may be placed on a single card or arranged to have one guest card per cabin.
The Rental Agreement & Pavilion Departure Checklist forms must be signed by the wedding couple at the time of reservation.
The Pet Policy for wedding group reservations differs from our typical pet policy. Please inquire for details.
All events (i.e. brunch or rehearsal dinner) hosted at the Cedar Bend Lodge must be limited to the registered overnight guests. No exceptions.
**All prices and policies are subject to change without notice.